Where are you planting your seeds in your business will determine the growth of your business. I had the privilege of Listening to a Podcast of Joel Osteen who addressed this issue… I felt like I was listening to myself and other leaders in Our Profession of Network Marketing.
He talked about who and where are you spending your time. Are they with negative people and around negative environments? He talked about where are you sowing your seeds. Are they in soil filled with rocks, thorns, and weeds.
Today I am going to talk about 3 things that can give you the ground for laying your one in a kind seeds in the right place.
#1 – Belief in You – If you don't believe in you Who the heck is going to believe in you. You see as I mentioned earlier your ground right now might be filled with a lot of rocks, thorns, and weeds.
As Joel mentioned the Thorns could be your friends. The ones that are always sticking you with bad comments every time you try to no something Positive in your Life.
The weeds could be your co-worker. Ever have that co-worker who never has a nice thing to say about anyone. Sometimes they say it right to your face or most behind your back.
The Rocks might be your family who always think they have your best interest at heart and who are always telling you can't do something that you think will bring a Postive result to your life.
I had all 3 attack me about when I first started my venture in this Profession. If you keep moving forward you will get the reward of hearing them say "Oh I guess you are one of the Lucky Ones. No, it wasn't luck I just didn't listen to you… No, don't say that just smile and say it was hard work but I didn't Quit and then say it. 🙂 🙂
#2- Be willing to Learn – We live in a different world now and technology is changing the Network Marketing Profession.
Be ready to adapt and be willing to change as things change.
Start learning how Social Media can advance your business. Get into a self-development regiment of reading books and listening to Motivation speakers like  Luciano Fidalgo, Eric Worre, Tony Robbins, Jim Rohn and if you like a Spiritual leader like I do Joel Osteen is amazing too.
I do a lot of my Meetings online both opportunity and Training. People don't have the time to go to all the meetings like I did when I first started in the Profession in the 1980's. I wish I had this technology back then. You can do wonderful things now to create momentum much quicker and more affordable for people to get started.
Remember the greater number of people want to just to make 500-1000 dollars a month of what I call Fun Money. They want to play golf, tennis, go on a cruise etc. so why have them running all around the place when they can do things online now. Now don't get me wrong if you like Hotel meetings all the time go for it. Me I like webinars and then pull people together and have some food and fun. But no matter what remember God gave us 2 ears and one mouth for a reason. Be willing to Listen and learn new things.
#3- Be a Giver – If you really want to be a Big winner in this Profession you need to understand about being a Giver. We all come into this Profession with the hope of making the big dollars but the only way is to understand it's about how many other people you are willing to help. It is so important to make sure you have the interest of your team before your interest. If you help enough people make 1000 a month then you will make 2000,5000 etc. I was always taught if it about a quarter give it to them don't be a penny thinker and a dollar broke. I love asking new people when getting them started what Do they Want? My goal is to help them get what they want and to have fun doing it. The more people you help get what they want the more you will get what you want… But please do it with the right intentions and heart.
So that's it for today…. Please share this so we can help change other's lives faster.
:
:
:

THE TOP EARNER FRAMEWORK?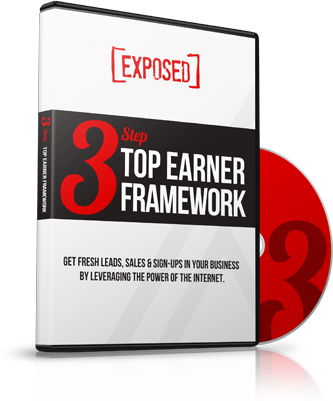 FINALLY Unlock the 3-Step Framework and Learn How to Get Fresh Leads, Sales & Sign-Ups in YOUR Business Leveraging the Power of the Internet.