If you want to Learn How to Increase Your PV/BV in Network Marketing you will love this message. As you all know if you are using a point system in your company to pay you commissions this is a common way companies determine your group payouts.
Well, today I want to break down things to do with your mindset and look at each letter and attach a thought to think about which if followed will help increase your payouts.
P – Positive We all need to change our attitude. When most people come into our Profession they come in so excited about the thought of having more money to get to a Dream. A dream that maybe your salary cannot fulfill at this time and you saw a solution with our Profession. But most of us also bring a lot of Negative baggage along from our past. So what is the solution to Improve your attitude? You must start switching your mindset from Negative to a more Positive environment.
When I first came into this arena I was a Narcotic's Detective in the NYPD and also had invested in a Restaurant/Bar business. So I had a Pretty lousy attitude being around negative all day and night. Yes, the bar business is not fun like you think oh let's go have a drink and meet people. There is a lot of negative stuff there Drinking, Drugs, who's cheating on who, well you got the idea.
So thank God a young Lady named Ruth Sanchez my sponsor in the business approached me one day and change my life forever. First, she already knew my Dream which was to be able to retire from the Police Dept at 42 years young and never have to work a stinking job again. I wanted 6 Saturdays and A Sunday. So she came to me and said,"Mike do you really want to retire when you are 42  because you have a bad attitude and you better start reading… Now I could have gotten mad but she did something really Smart she put my Dream in front of the bad stuff. So I knew she had my best interest at heart. Tip…So make sure you find out what people want when they come into your business. I ask people 3 things if they want to work with me but that is a whole different subject.
So what she did was recommend a Postive book to read. She knew I didn't want to read so she went to the last page which was around 220 pages and said let's read this in a month. She said would you read 7 Pages a day to be able to retire at 42. Once again back to the dream. Now that night I read 3 pages and went to sleep the next night 5 but by the end of the week, i was reading 15-20 pages because I found out those books weren't about other people they were about me. These books made me a better Detective, Bar owner, Friend, and all around happier person. I could go on for another 20 minutes writing on this subject but trust me, get started reading Books and listening to positive speakers. Encourage your new Partners to do this ASAP.
V- Vision You need to have a vision for your Dream and your team's dream. One of my Favorite quotes by Napoleon Hill "Whatever the mind can conceive and Believe, it can achieve. So first get your Dream right in your mind and then start to share it with people. The drawback to this is usually the closest to you will try to steal your dream thinking they are protecting you. But don't be fooled when you achieve your dream they will say you were Lucky. HAHA.
Then share a Team Dream find something that you can all rally around like let's bring 50-100 people to the next convention. Let's all lose Fat, Let's all have better skin whatever just get the team excited.
B – Believe This works to enhance your vision. You got to believe you will succeed and keep saying it to yourself. The first thing in the morning don't just jump out of bed take a minute and visualize your Dream. Tomorrow if your Dream is to retire early think about what it would be like not to have to jump out of bed and rush to work. Think about what 6 Saturdays and A Sunday would be like… Not haven't to go to work in the rain, snow, and traffic or trains… I am getting excited writing this because it's 10:30 am I am home and its cold out and I am still in my PJ's… It's been like this for 24 years now Wow… The only difference is I Believed in Me, The Company, my Upline and You.
It's very important to keep believing in your team and keep reminding them they can do it… The more praise you give to your Team members the closer they get to their Dream… We have to fully understand the more people you help get their dream the better and closer you are to your Dream.
One mistake I see if a person only wants to make $500-$1000 a month encourage them don't say you have a small vision remember it is their vision and when they achieve it they will maybe see the next vision as people on their team are growing. If not they made their Dream come true so celebrate it and this leads me to the V.
V – Victory. The Victory is FREEDOM. Everybody's Freedom is at different levels. Some want to make enough PV/BV to get out of Debt, Some want to make a car payment, Some want to save for a vacation and some want big money to do everything… But start celebrating the small victories when you hit a small goal go out to dinner with your Wife/Husband. That is the coolest way to get a negative Husband/Wife to maybe build the business with you is to show them success and Dinner helps. haha  To All the naysayers show them the Victory and their tune will change. But the most important Victory is your Victory Your Freedom. Stand up now and Say Freedom Baby Freedom.
I hope I gave you some encouragement with this short article
If so please share it to help Others to Improve their Victories.
.
.
.
THE TOP EARNER FRAMEWORK?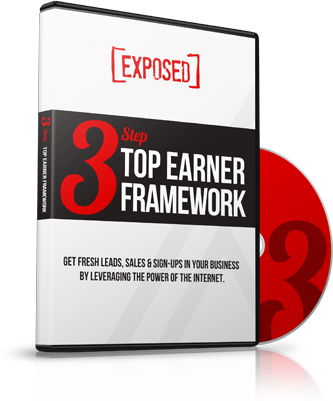 FINALLY Unlock the 3-Step Framework and Learn How to Get Fresh Leads, Sales & Sign-Ups in YOUR Business Leveraging the Power of the Internet.